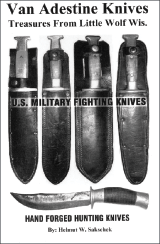 VAN ADESTINE KNIVES: Treasures From Little Wolf Wis.
By Helmut W. Sakschek
One of the subjects that never ceases to amaze me is how many early 20th century custom knife makers are practically unknown today. The author of Van Adestine Knives has self-published (limited to 100 copies in the first printing) a compact history of one of those makers from his own part of Wisconsin. R.A. Van Adestine's shop started hand forging knives sometime in the late 19th century with his son taking over the business in the 20th century. The business seems to have faded out of the picture by the early 1960's.
There are several interesting points that can be made about the Van Adestine knives. First, they were made as a side business by a blacksmith, something a well-known cutlery expert claims never happened. Second, they were forged from worn-out files, yet another controversial subject. Third, they utilized a cast aluminum handle frame with handle inserts much like those found on Ruana knives. And possibly the most interesting bit of trivia is that either Bill Scagel copied the Van Adestine combat knife or the Wisconsin maker copied him. The Van Adestine family feels it was the latter and offers fairly convincing proof.
The once famous Chicago outdoor store, Von Lengerke & Antoine (part of Abercrombie & Fitch), sold the Van Adestine knives through their mail-order catalog so these rare blades can turn up about anywhere. They are certainly collectables worth keeping an eye open for.
H.W. Sakschek
P.O. Box 3, Neenah, WI 54957
www.yostaction.com/vanadestine.html