Van Adestine Knives
Treasures From Little Wolf, Wis.
00 20/03/09

[ Up ]<< click
If you are reading this, it's because the author trusted you and has given you the secret link to this page.
The following article appeared in Knife World.
Please obey copyright laws and use this for your personal reading only.
Please do not copy or distribute this article.
Van Adestine Knives, by: Helmut W. Sakschek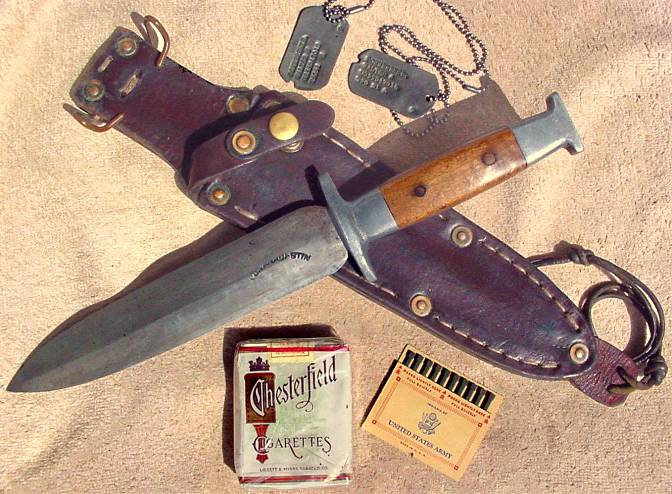 A Typical W.W.II Double Edge Fighting Knife made by Robert Van Adestine.
It was back about the year 1985 that several members of the Appleton rifle & Pistol Club discussed various non-combatant contributions of their grandfathers, fathers, and uncles, to the W.W.II war effort. Some family relations worked in the Ship Yards, some worked in the Foundries, while others worked in various support roles in Industry.
Somewhere in the mix of this discussion, Frank Binder told of his Grandfather making fighting knives for W.W.II soldiers. I think most listeners assumed his Grandpa worked in a factory for any one of the many commercial industrial knife makers such as Camillus or Case.
However, when Frank displayed a large hand-forged double edge dagger, with his Grandfather's name stamped on the blade, we understood when Frank said his Grandpa "made" knives for soldiers during W.W.II, he actually did "make" them, from scratch. That was when I started asking Frank detail questions about his ancestors, and became determined to tell of their unsung accomplishments.

Frank Binder showed ARPC members this Large Fighting Knife made by his Grandfather, Robert Van Adestine.

The Double Edge Dagger has an 8" Blade with a cast-on aluminum guard and butt cap with wood slabs.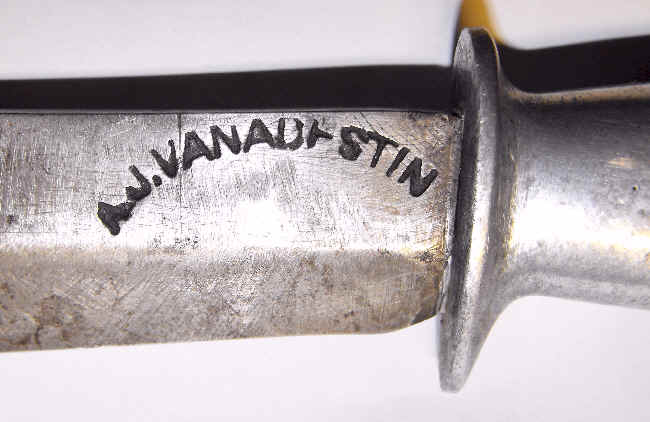 Robert Van Adestine marked his blades with the same 1860s stamp that was used by his blacksmith father, Andrew.
Frank Binder's Grandfather (his mother's dad) was a man named Robert Van Adestine. Robert grew up on a farm in Little Wolf, Wisconsin. Robert was the son of Andrew Van Adestine, a skilled blacksmith who settled in Little Wolf in the 1860's. By the time Robert was 15 years old, he had learned many blacksmithing skills from his father. He continued to apprentice, and in time, he too became a very accomplished Blacksmith.
Although Andrew Van Adestine made a modest living with his Blacksmithing skills supporting the local grain mills, saw mills, and area farmers, by the time his son Robert started to raise a family, the need for an area Blacksmith was greatly reduced. The early 1900s saw many items that were once available only from the local "Smithy", now available through many of the various catalog houses in the East. Most items that were once hand made by the local Blacksmith, were now being machine made in large quantities in industrial cities, and distributed through catalog sales.
Although Robert had learned the art of knife making from his father as part of his training, he started making his own knives at about age 15. And by the early 1900s, Robert had perfected his knife making skills, turning them into a steady income source. Although Robert continued to blacksmith, his hand-out business card read: "Robert Van Adestine" - "Maker of Hand Forged Knives."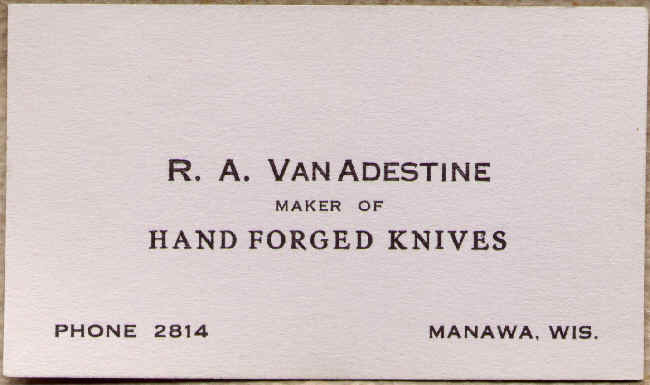 Robert Van Adestine's business card identified him as a knife maker.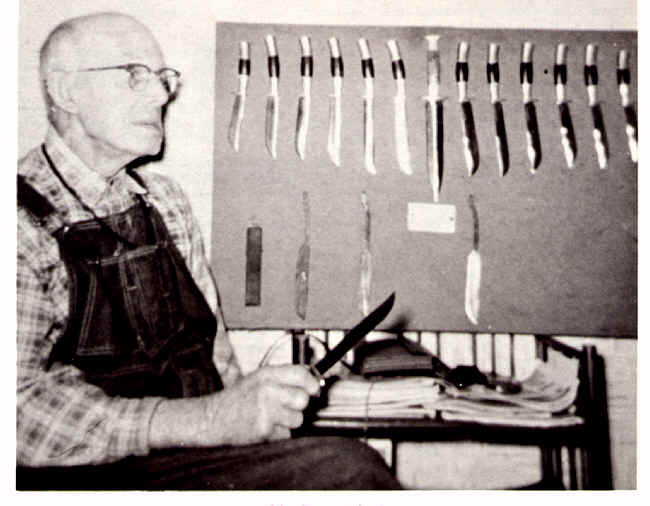 Robert Van Adestine with his knife display board showing different knife options and the steps in making a knife.
By the beginning of W.W.I, Robert was in his 30's and already had 10 to 15 years experience making knives under his belt. It is not known if any of his knives, or those of his father, had seen use in the Great World War, but it is very possible that some of them did, and I will continue to search for any such documented examples.
This is one of the very earliest Van Adestine Fighting knives. It may have been used as early as W.W.I.
From early on, Robert started to work with aluminum as a prime material for his knife handles. Aluminum was not then as available as it is today, and it was considered a "premium" material for knife making. It was much superior in strength and toughness to the much softer "pewter" which was back then common in knife construction.

A very Early Van Adestine knife with a Skinning blade.
Knife blade material for Robert's knifes came from where ever it could be found, such as worn out or broken tools. High carbon steel from mill-pics and files were his favorites and he took every opportunity to scrounge for them. When the local Grain Mill was destroyed by fire, Robert salvaged mill-pics from the burned ruins. And when the Farrier's rasps and files became worn-out or broken, they were saved for Robert. So was the case with many area businesses which regularly saved worn-out files for Robert's knives.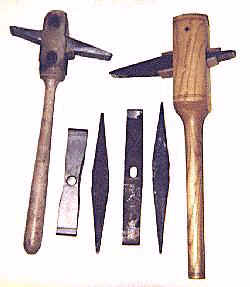 Worn out tools such as mill-pics and files were a favorite source of high-carbon steel for Van Adestine's blades.
One can speculate that without Robert Van Adestine's Blacksmithing background, it is unlikely that he would have combined the sciences of Blade-smithing and casting aluminum. And, without his trade-learned wood-working skills, it is unlikely that the needed wooden molds would have been fabricated. Only through these combined abilities, did Robert Van Adestine forge the blades, carve the wooden molds, cast the aluminum handles, attach the wood and leather, and grind and finish his knives.
And of all of these tasks, the hand-carving of the wooden molds was by far the most time consuming. Each set of wooden molds could only be used once to cast the aluminum into place, because the hot molten metal would burn-up the mold as it cooled. It wasn't until 1942 that Robert finally obtained steel mold blocks to cast the aluminum onto his blades.
Upon the outbreak of W.W.II, and with the "Knives for Lives" donation program, Robert contributed his efforts by making knives for this cause. In addition to donated knives, many of Robert Van Adestine's large fighting daggers saw service because they were purchased either directly by soldiers going to war, or by the caring family members of the "boys" who were already overseas.

Knives like this very early fighting knife variation were donated by Van Adestine to the W.W.II "Knife drive."
Several of Robert's Fighting knives have been traced to purchases from the VL&A Store in Chicago. VL&A, Von Lengerke & Antoine, was the sister company to Abercrombie & Fitch. Interesting, a family anecdote tells of a man named "Scagel" who copied Van Adestine's fighting knives when he first saw them displayed for sale at the VL&A store in Chicago.

Van Adestine Fighter. (top) Scagel Fighter (bottom) Louis Chow photo
How many of Van Adestine's large double edge daggers went to war is not known. Perhaps thousands, perhaps only a few hundred, but whatever the number was, there were enough of them to catch the eye of the people at World Book Encyclopedia. In 1946, World Book Encyclopedia wrote Robert Van Adestine and asked his permission to use a picture of his fighting knife to depict a "Dagger" in their up-coming "D" edition. They provided this description under the photo: "A Razor-Sharp knife was used by Commandos during W.W.II." The photo, with various captions, continued for almost 40 years up until 1985. And, of all the different knives that were made during W.W.II, it was Robert Van Adestine's knives that received World Book's recognition.
World Book Encyclopedia used photos of Robert Van Adestine's Double Edge Fighting knife in vol. "D" for Dagger.
After the War years, Van Adestine's knife production reverted once again back to hunting knives. Although sales were mostly regional, the 1946 VL&A catalog listed the Van Adestine hunter in 5" and 6" blade lengths under the name "Manawa Knife". This name came from the nearest city to where the knives were made because by then, the Town of Little Wolf had been lost to the ages. This would account for a wide distribution of knives to all parts of the U.S. Although other catalog listings have been reported for both the Fighting knives and the Hunting knives, none have been evidenced to date.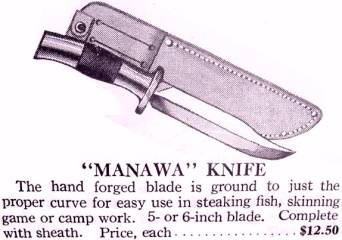 A 1947 VL&A catalog ad offering a Robert Van Adestine Hunting Knife.
Van Adestine's knives have been found with various custom blade styles because each one sold by Robert was custom made for the owner. Blade lengths of the Van Adestine hunters have been found ranging from 4-3/8" to over 8" long.

Van Adestine Hunting knives have been found with blades ranging from 4-3/8" to over 8" long.
Although blade styles varied, the knife handle construction of the hunter was always the same. And, unlike the wood slabs that were copper riveted to the sides of the handles of the fighting knives, the hunting knife handles had leather washers tightly sandwiched between the aluminum guard and the butt cap. When the hunters were constructed, both the guard and butt cap were cast directly onto the blade shank, with the cap being cast "as removable" in order to later install the leather washers. The exact "removal" method is a well kept "family secret" that has never been told, even to this day.

Robert Van Adestine's Fighting knives had wooden slabs between the guard and butt cap attached with copper rivets.

Robert Van Adestine's Hunting knives had leather washers tightly sandwiched between the guard and butt cap.
Although "aluminum-leather-aluminum" is found on all Van Adestine hunter handles, early made handles were not as uniform as the later ones. Early knives had handles that were straighter and rounder than later made handles which were more curved and had an oval cross-section. As with the fighting knives, hunters made prior to W.W.II had aluminum cast on using hand-carved wooden molds that could only be used once. Those handles cast after the War used steel molds.

Early Van Adestine hunting knives had straight cylindrical handles.


Later Van Adestine hunting knives had curved handles that were oval in cross-section.
Sheaths for both the Van Adestine Fighting knives and the Hunting knives, that were sold directly by Robert Van Adestine, were made in nearby Manawa by a harness-maker named Henry Komp. Henry came to Manawa in 1908 and established a Saddlery shop there. He was a close friend of Robert Van Adestine and was involved with the many design changes of the securing strap of the sheath; changes that resulted in a sheath design that evolved into its final form with features found on many of today's modern sheaths. Aside from the retaining strap, the Van Adestine's sheath has a distinctive blade compartment / back-flap / belt-loop, which has not been seen with any other knife.

Typical Henry Komp made sheath for the Van Adestine hunting knife.
Those knives that were sold through the VL&A store in Chicago had sheaths that were supplied by VL&A's own private sheath maker. In some cases, VL&A supplied other brand name sheaths that were sold in the store, such as Marbles.

A Henry Komp made sheath for the Van Adestine Double Edge Fighting knife.

A VL&A supplier made sheath for the Van Adestine Double Edge Fighting knife.

A VL&A supplied Marbles made sheath for the Van Adestine Double Edge Fighting knife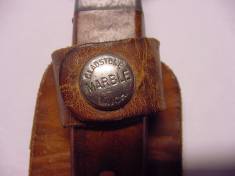 This Marbles Gladstone Michigan sheath was only made in 1942 – 1943.
Much of the information about Van Adestine knives has come from direct interviews with family members and friends that personally knew Robert Van Adestine. His Grandson, Frank Binder, filled in much information that surely would have been lost with time. Unfortunately, my dear friend Frank passed away in 2006, before additional questions could be asked and answered. It was because of Frank's excitement about the accomplishments of his Grandfather, that I pledged to research in detail these unique knives, and give overlooked credit his Grandfather, Robert Van Adestine, for his role in the Pioneering of Hand-Forges knives during the early 1900s.
This is one of the earliest known Van Adestine Hunting knives dating perhaps as early as 1890s.
I have collected many Van Adestine knives over the years, and I will continue to collect them in hopes of learning more information about them. I hope to find the answers to continuing questions that have come to be asked. Many of the 40+ specimens that I have physically examined are pictured and documented in my recent paperback book, "Van Adestine Knives, Treasures from Little Wolf, Wis." I'm hoping this newly shared information will surface more examples of Van Adestine's unique creations from around the country, and when I have compiled enough additional data, I will publish a Hard Cover update with the expanded information.
Please feel free contact me with photos and descriptions if find one.
Helmut W. Sakschek
~~~~~~~~~~~~~~~~~~~~~~~~~~~~~~~~~~~~~~~~~~~~~~~~~~~~~~~~~~~~~~~~~~~~~~~~~~~~~~~~~~~~~~~~~~~~~~~~
Epilog from the Book, "Van Adestine Knives, Treasures from Little Wolf, Wis."
Since I first starting writing about the history and the making of the Van Adestine knives, I've lost my very dear friend of over 30 years, Francis Binder. Frank was the Grandson of Robert Van Adestine. Frank passed away in the fall of 2006 at the too young age of 63.
When Frank was a young boy, he actually spent time in his Grandfather's blacksmith shop in Little Wolf, Wisconsin, watching, listening, learning, and helping his Grandfather make some of these unique knives.
It is only through Frank's enthusiasm about the history of his ancestors, and their unsung accomplishments, that I also became interested in the history of these very unique knives and started to collect them with a passion.
With each and every new knife that I discovered, I would rush it to over Frank's house and show it to him. It was my shear joy to see his face light-up with excitement as he carefully examined each one. Many times he would remark that he was not only holding something that his Grandfather had held, but he was also holding something that his Grandfather had made with his own hands.
The Doman knife shown above was one of the most recent knives discovered, and it was also one of the most unique. Frank missed seeing it in this World by only a matter of hours, and although I'm sure he's looked down and seen it by now, I really pine over not having been able to witness the excitement and the joy he would have had examining it.
To many of us, Frank Binder was also one of the "Treasures of Little Wolf."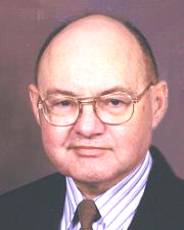 Francis "Frank" Joseph Binder III
December 28, 1942 - October 25, 2006
Grandson of Robert A. Van Adestine.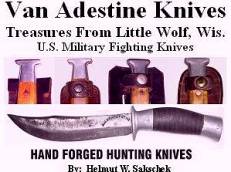 Copyright 2006-2015, yostactions.com Neenah, 54957