The Yost Single Shot Schuetzen Action
Mr. Edward J. Yost (1923 - 1990)
For over 40 years Ed Yost was a member of the Black Wolf Schuetzen Verein. During this time, he slowly developed a concept of what should be embodied in a single shot Schuetzen rifle action. In the late 1930's the older members of this club still used the traditional single shot rifles like the Ballards, Stevens, and Winchesters. During the 1940's the old guns were all but shot out and gave way to the 22 cal. target bolt guns. Also, at this time, German single shot rifles, like the Lechner, brought back by Veterans of WWII, came into use on the range.
Through this evolution of shooting equipment, Ed Yost learned of the strengths and weaknesses of many types of rifles. He used this, along with his intimate knowledge of materials and mechanical design, to formulate his new single shot Schuetzen rifle action.
From 1985 until 1990, Mr. Ed Yost painstakingly engineered, designed, and developed his action to preserve the old traditions - but with new technology. It is truly a falling block single shot action designed by a shooter, built by a shooter, for the shooter.
For more information about Ed Yost, click the [ ED YOST HISTORY ] button below.
Yost Action Features: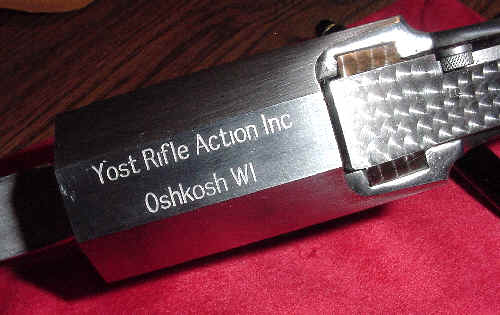 Action and Breech Block are investment cast 4130 chrome-moly alloy quenched and tempered for high strength.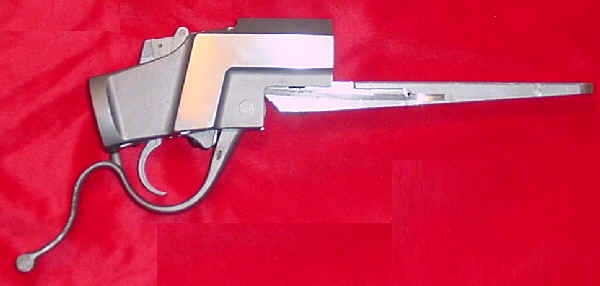 The Yost Schuetzen Action uses a Forearm Rail which allows the barrel to Free Float.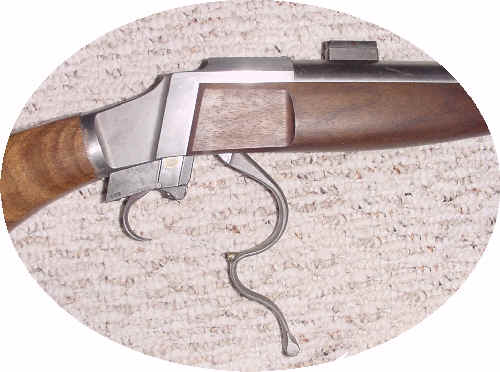 Yost Action is positive locking with an inclined Breech Block that assists in the proper seating of the cartridge.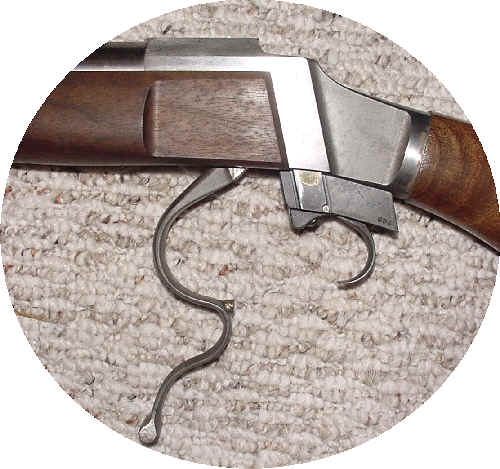 Breech Block is cam actuated with NO linkage to wear or loosen.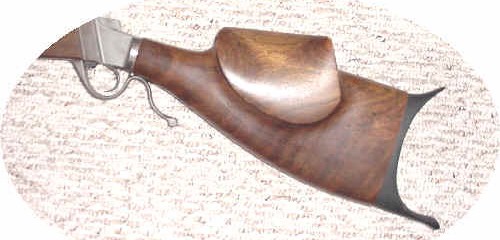 A Through Bolt stock design means easy inletting plus a tighter fit-up of the stock to the action.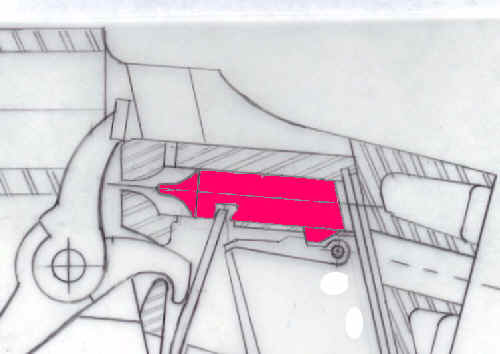 The Yost Striker design, similar to the Lechner, provides fastest lock time with only 1/4" striker fall.

These combined features result in a most unique Yost Single Shot Schuetzen Rifle Action.
~~~~~~~~~~~~~~~~~~~~~~~~~~~~~~~~~~~~~~~~~~~~~~~~~~~~~~~~
Ed Yost built a total of 33 Schuetzen Actions - personally completing only 13 ( only 1 in .22 rimfire )
( although 4 additional actions were made, they were never completed and remained with the tooling )
~~~~~~~~~~~~~~~~~~~~~~~~~~~~~~~~~~~~~~~~~~~~~~~~~~~~~~~~
Ed Yost's Rifle Accessories
~~~~~

Yost Rifle "SWANS"
The Yost "SWAN" hook butt plate was so named by Mrs. Yost because of how they looked. Rough-Cast from aluminum they were easily finished for an authentic Ed Yost Schuetzen Rifle.
~~~~~~~~~~~~~~~~~~~~~~~~~~~~~~~~~~~~~~~~~~~~~~~~~~~~~~~~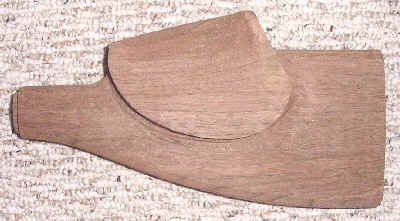 Yost Pattern Schuetzen Stock
The Yost Pattern Schuetzen Rifle Stock was Rough-Shaped from American Walnut. They were easily finished for a stream-lined Yost Schuetzen Rifle.
~~~~~~~~~~~~~~~~~~~~~~~~~~~~~~~~~~~~~~~~~~~~~~~~~~~~~~~~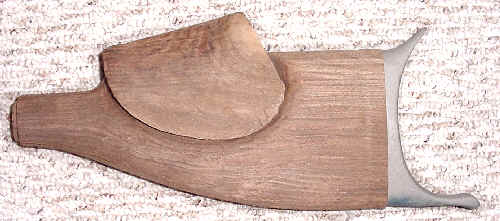 ~~~~~~~~~~~~~~~~~~~~~~~~~~~~~~~~~~~~~~~~~~~~~~~~~~~~~~~~
The following information was included in the original paperwork that accompanied the original Yost Single Shot Falling Block Shutzen Rifle Action.
The Single Shot Falling Block Action lever is investment cast 8620 steel which is then carburized and heat treated to provide wear resistance and ductility. Internal parts of the single shot action are of both oil and air hardening tool steels as required.
The trigger system of this unique falling block action is a 3 lever trigger for fast lock time and very fine trigger control. Adjustment for both sear engagement and trigger over-travel are provided and were factory set for safety.
A very long barrel shank of large diameter is provided to give a chamber with greater wall thickness and greater strength, and it is well integrated with the single shot action.
There are no exposed pins or screw heads which gives this single shot action a clean and crisp appearance.
All sear points of the Yost action are precision ground, bearing points are lapped, and all parts are hand fit.
The Yost Action is designed for rimmed cartridges and Shutzen loadings.
SPECIFICATIONS:
Dimension: 1-5/16" W x 2-3/4" H x 5" L (without forearm rail)
Weight: 2 lbs. 2 oz.
Barrel Shank: 1.026" diameter x 2" long ( 3/4"-14 N.P.S. thread)
Trigger Pull: Approximately 2 lbs. "factory set"
The Yost Single Shot Falling block rifle action is designed for rimmed cartridges and Schuetzen loadings.
DISCLAIMER: Although these actions were built with the best materials available and strictest quality control, Edward Yost is no longer with us to make guarantees. In addition, since it is not possible to control the final assembly and use of these actions, they are sold "as-is". The buyer assumes full responsibility for their completion and use.
Ed Yost Mfg - He built his actions in his home workshop using tooling that he designed himself
<< click
Copyright 2006-2021, yostactions.com Neenah, 54957